Town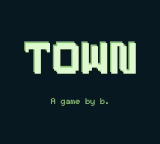 Have fun. Everything is totally normal and fine.
--
CONTROLS
⬆️⬇️⬅️➡️ - Move
Z - Interact / Confirm
--
I created this as part of the #LifeSprintProject – a project where I create a new "thing" every 2 weeks.
Since I have no meaningful game development experience, I used a no-code platform and pre-made assets. As such, here's my list of credits! I can't recall if I ended up using all of these, but massive shout out to the creators. Y'all are legends.
And for inspiration, I have to give a shout out to The Swell Mob for the coolest implementation of "everything is not quite as it seems" I've ever experienced. And my boy Kier Kemp for showing my firsthand that creatives of one kind can be creatives of other kinds too.
--
See more projects by me at bradthewebsite.com